Photo by Kesennuma Tourism Authority at Mt. Tokusenjo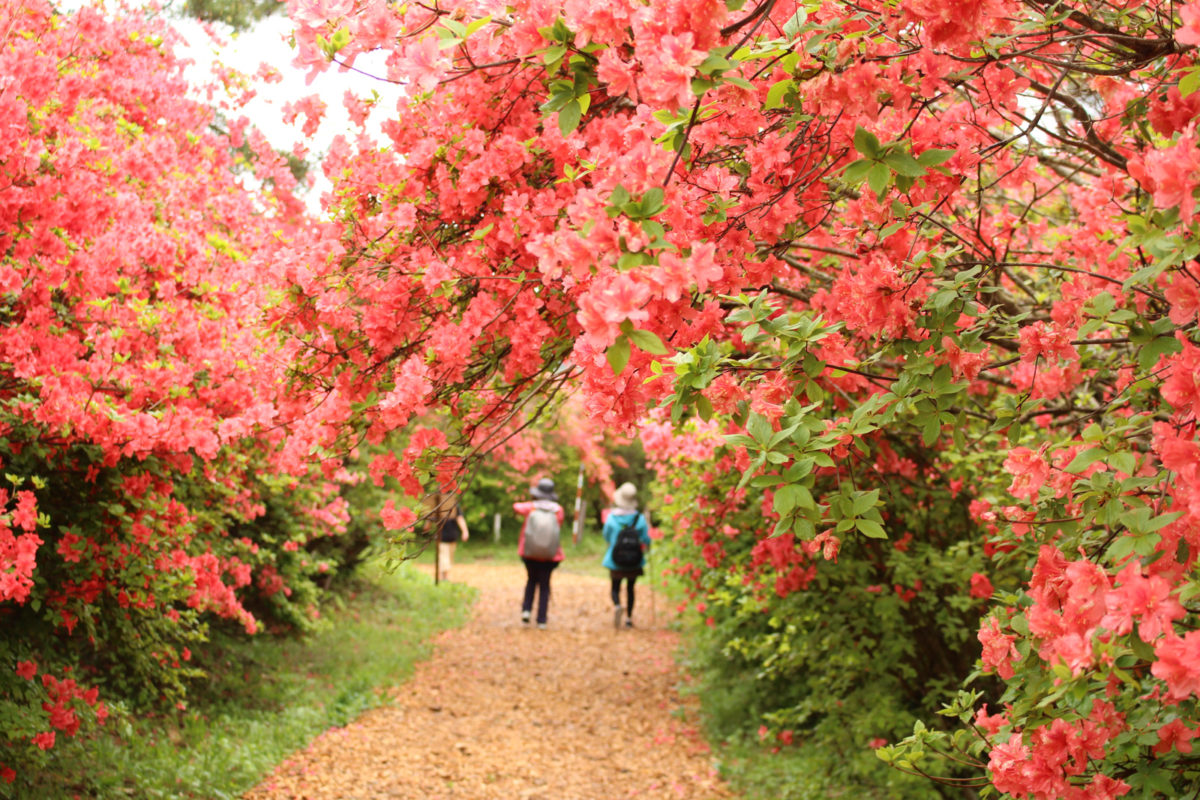 Photo by Wesley Keppel-Henry at Mt. Kurikoma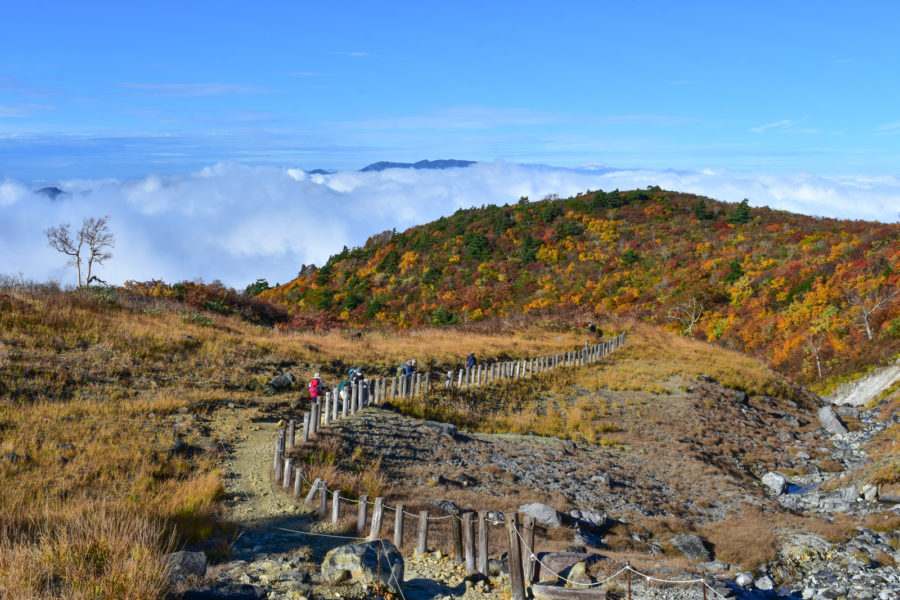 Photo by Wesley Keppel-Henry at Mt. Taihaku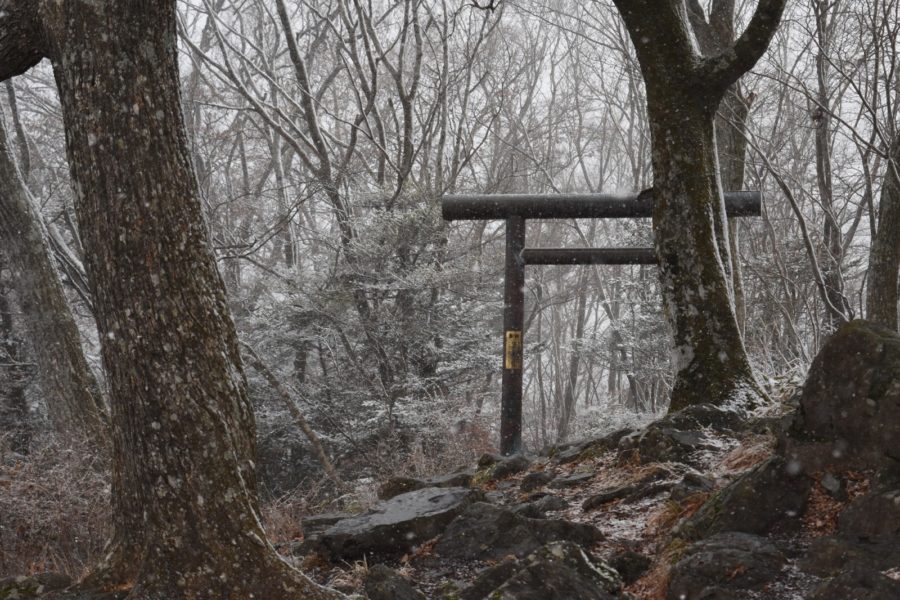 Miyagi offers beautiful hiking all year round. No matter the time of year, visitors are sure to find pleasant trails and stunning vistas. Landscapes vary greatly with the season—the same trail hiked even in summer will look completely different come autumn! Few of the hikes introduced below require any specialized equipment or techniques; they are accessible to hikers of a wide range of skill levels.
Table of contents
Hike Miyagi
Laura Egan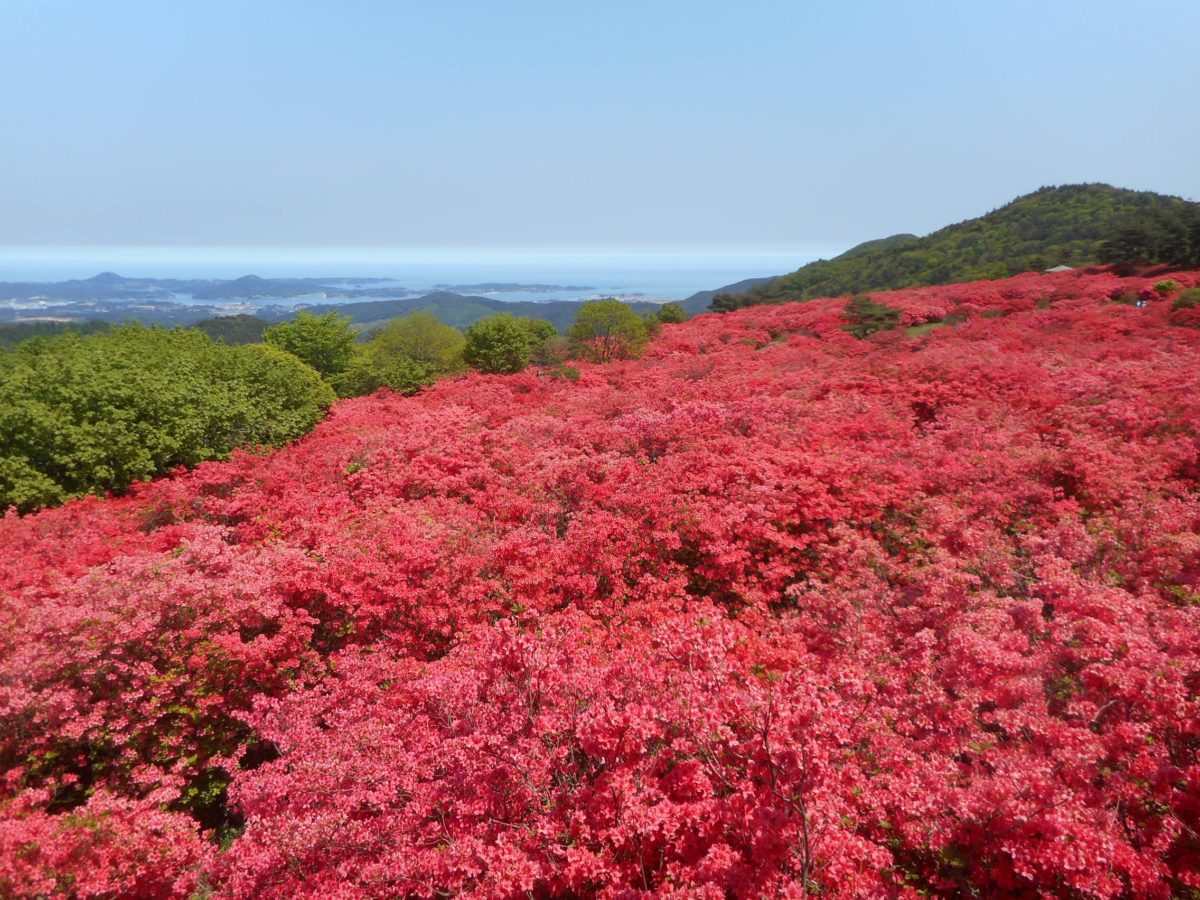 Spring・春
A great time of year for wildflower hikes. Miyagi's higher elevations offer hikers the chance to glimpse rare alpine species such as miyamayanagi (Salix reinii) and iwakagami (fringed galax), while lower mountains dazzle with less-rarified but showier varieties, like cherry blossoms and wild mountain azaleas. The spring hiking season begins in late March or early April, once the snow has melted and the trails which had been closed for winter are reopened.
Recommended spring hike: Mt. Tokusenjo
At its best in spring when the 500,000 or so wild azaleas on its slopes come brazenly into bloom. It's considered the number one wild azalea spot in Japan!
Laura Egan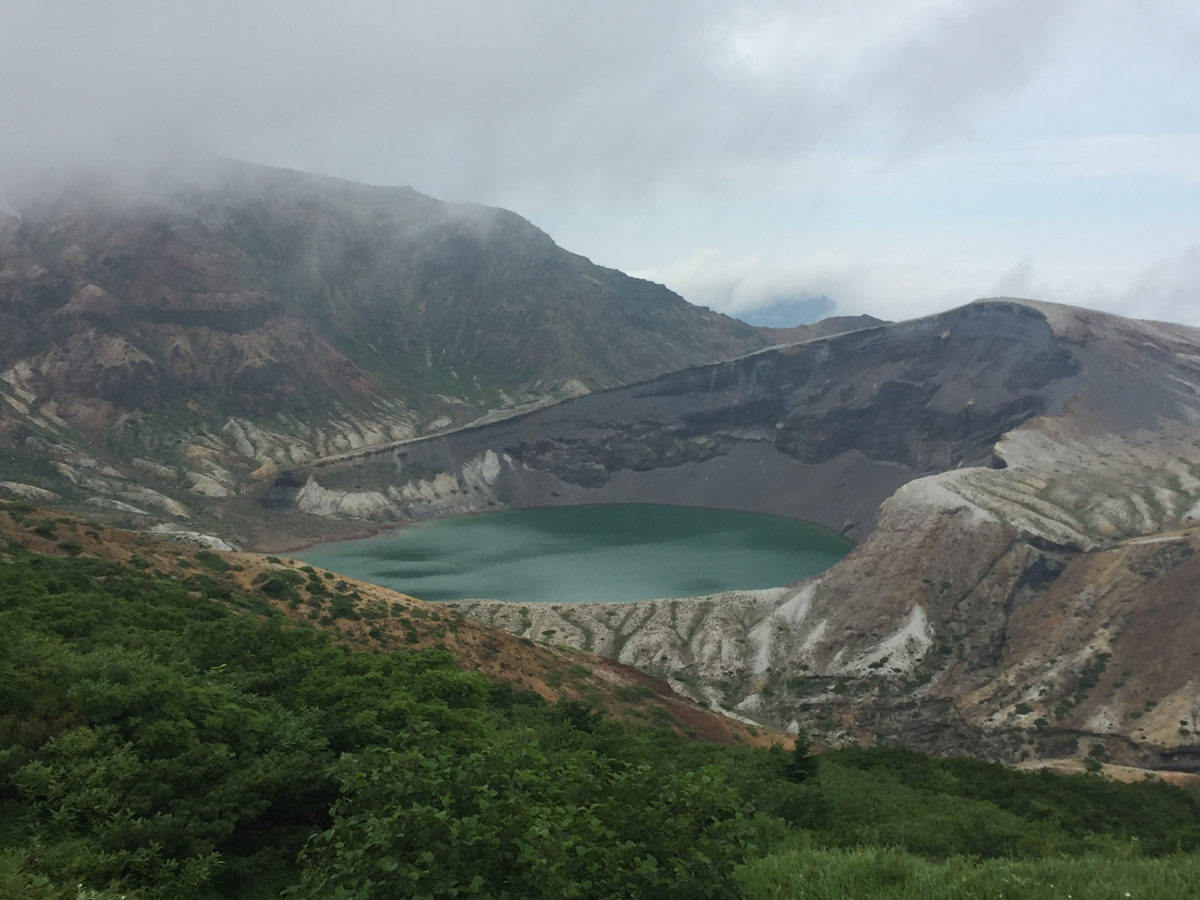 Summer・夏
Arguably the easiest time of year to tackle Miyagi's highest peaks, as the temperatures at elevation are just right—neither too hot nor too cold. Lower elevation hikes too offer respite from the city heat. At this time of year, both high and low elevations views with a nice contrast between lush vegetation and dramatic rock formations.
Recommended summer hike: Kumano Peak, Mt. Zao
The only mountain in Miyagi to make the Hyakumeizan (a list of 100 famous Japanese mountains). Trails to Kumano Peak circumnavigate the stunning Okama Crater . The volcanic landscape surrounding Kumano Peak contrasts dramatically with the verdant landscape below.
Wesley Keppel-Henry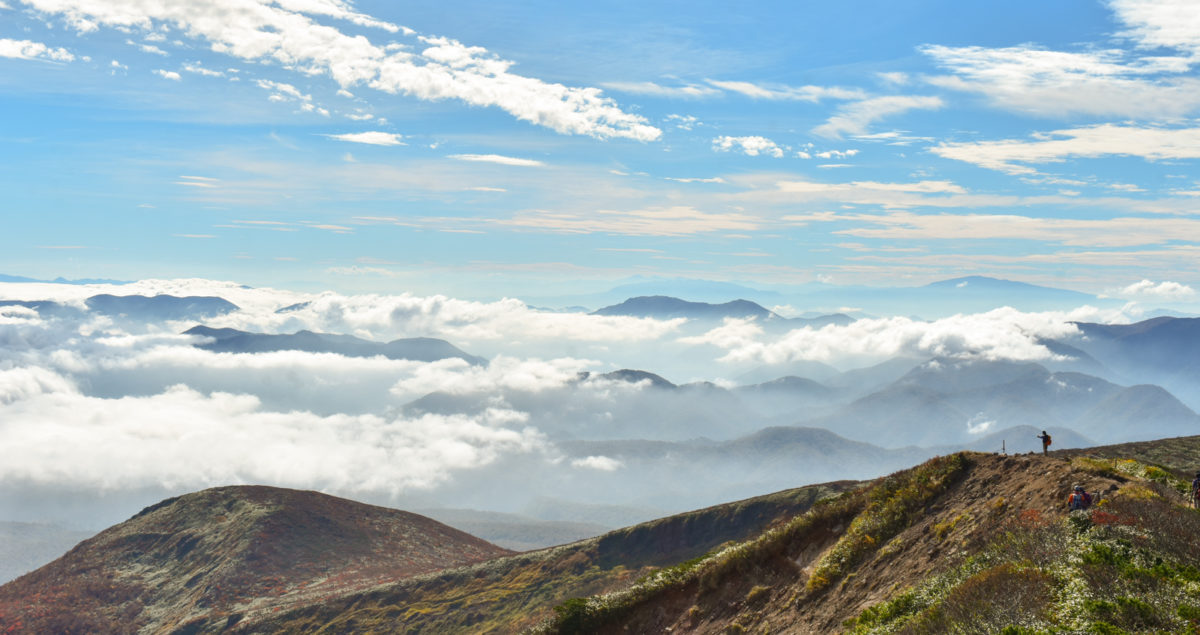 Autumn・秋
The fiery hues of fall foliage makes this the most popular time of year for hiking in Miyagi. The prefecture's large elevation range means that fall colors can be viewed any time from late September to late November. The autumn foliage starts at the mountain summits around late September and gradually descends as fall wears on. By mid-November, the fall colors have reached Sendai City. Because autumn hiking is so incredibly popular with locals, special trailhead buses run this time of year to drop off and pick up hikers.
Recommended autumn hike: Mt. Kurikoma
The best fall color hiking in Miyagi. Rather than just a single shade, the alpine vegetation of Mount Kurikoma dapples the slopes in a range of fiery hues. Autumn weather also offers hikers the best chance to view a heavenly unkai (sea of clouds) from the summit. After an hour or so of steady ascent, the trail levels off and opens up to reveal a 360-degree panorama of alpine vegetation and the distant Ou mountains.
Roger Smith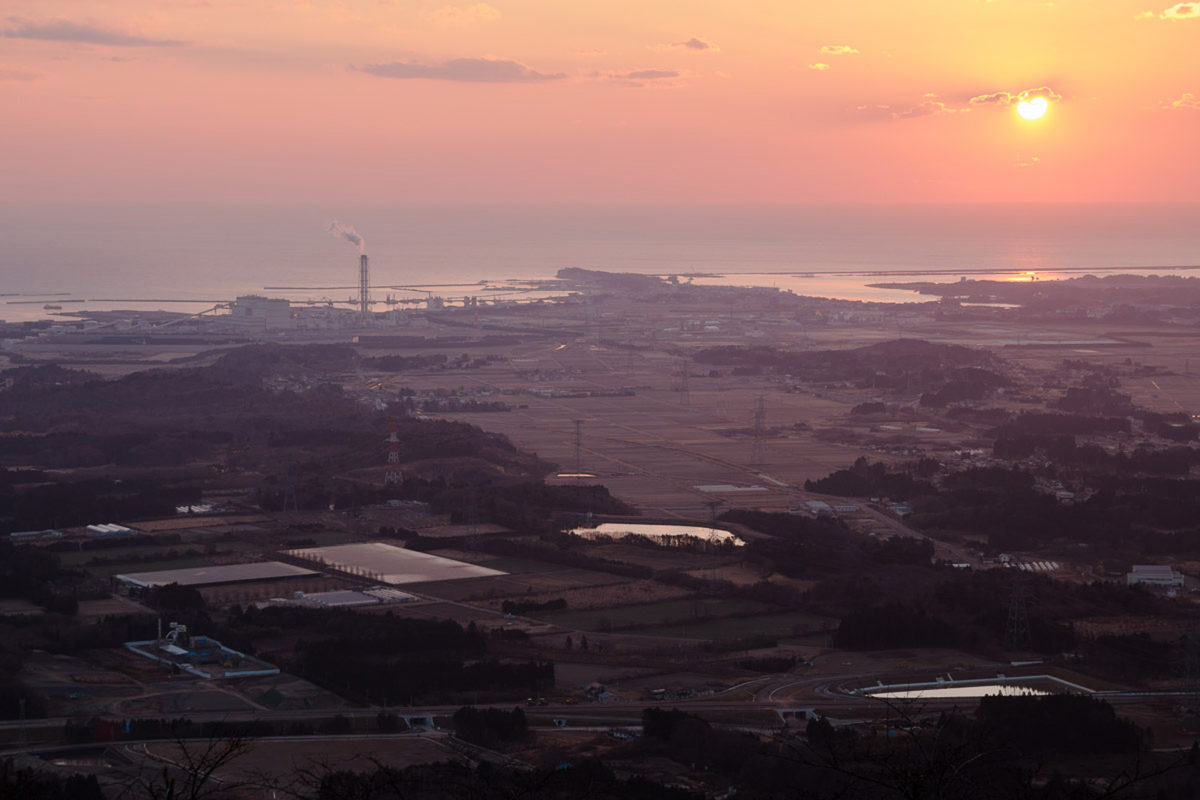 Winter・冬
Miyagi's higher elevations are covered in deep snow all winter long, but some, like Mount Zao, remain accessible to hikers via guided tours. The guides know Miyagi's mountains well and will lead you through stunning winter landscapes to see icy spectacles like frozen waterfalls and snow monsters.
Lower elevations near the coast receive little snowfall. For those prepared for the cold, hikes here can be done without special gear even in winter. The lack of foliage and pure, cold air increase the clarity of the vistas.
Recommended winter hike: Mt. Karou
A popular destination for sunrise hikes in winter, Mount Karou is a low mountain near the coast lying right on the border between Miyagi and Fukushima. Its modest 271-meter summit offers hikers a bird's eye view of the sun rising over the Pacific Ocean. The mountain receives little snowfall, making it a good winter hike even for those without winter mountaineering experience or equipment.
Wesley Keppel-Henry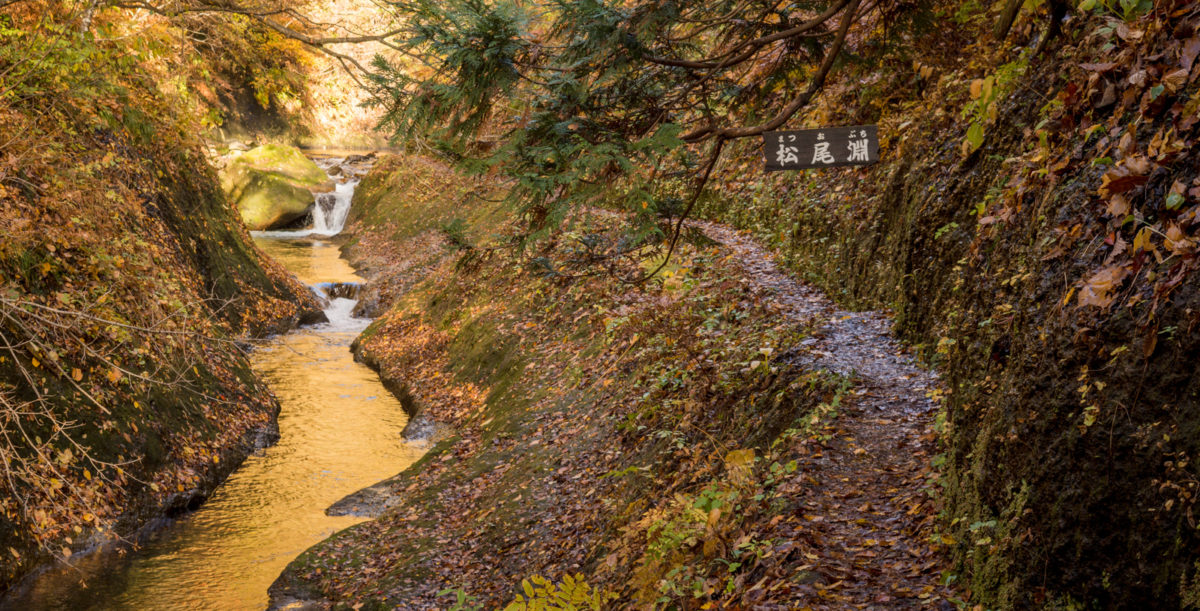 Non-mountain hikes・トレッキング
Miyagi also offers a number of relatively flat trails through gorges, marshes, and the like. These trails lack the strenuous ascents of mountain hikes but rival them in tranquility and beauty. One of the most scenic and easily-accessible is the Omoshiroyama Gorge trail. Those looking for the trek of a lifetime should consider the Michinoku Coastal Trail, an epic 900-kilometer long trail that traverses nearly the entire Pacific coast of Tohoku.
. . . and more!・プラスアルファ!
The hikes introduced above are some of the best for each season thanks to their particular seasonal charms, but Miyagi is home to many other trails beautiful throughout the year. Others featured on Visit Miyagi are:
・Mount Taihaku: a small holy mountain with a short chain climb near the peak
・Oku-Matsushima Olle Trail: panoramic views of Matsushima Bay's iconic islands
・Kesennuma-Karakuwa Olle Trail: varied landscapes and dramatic rock formations
・Oshima Island: a scenic island home to trails up low mountains and along scenic capes
・Rairaikyo Gorge: a small rocky gorge with a nature trail perfect for absolute beginners
Last Update
December 14, 2022

Matsushima Bay

Mt. Zao

Near Miyagi

Northern Miyagi

Sanriku Coast

Sendai

Tags