Getting to/Around Miyagi
Miyagi Prefecture is located about three hundred kilometers northeast of Tokyo and is part of the Tohoku region. There are a number of ways to get to and around Miyagi. Let us introduce you to some of the major routes below.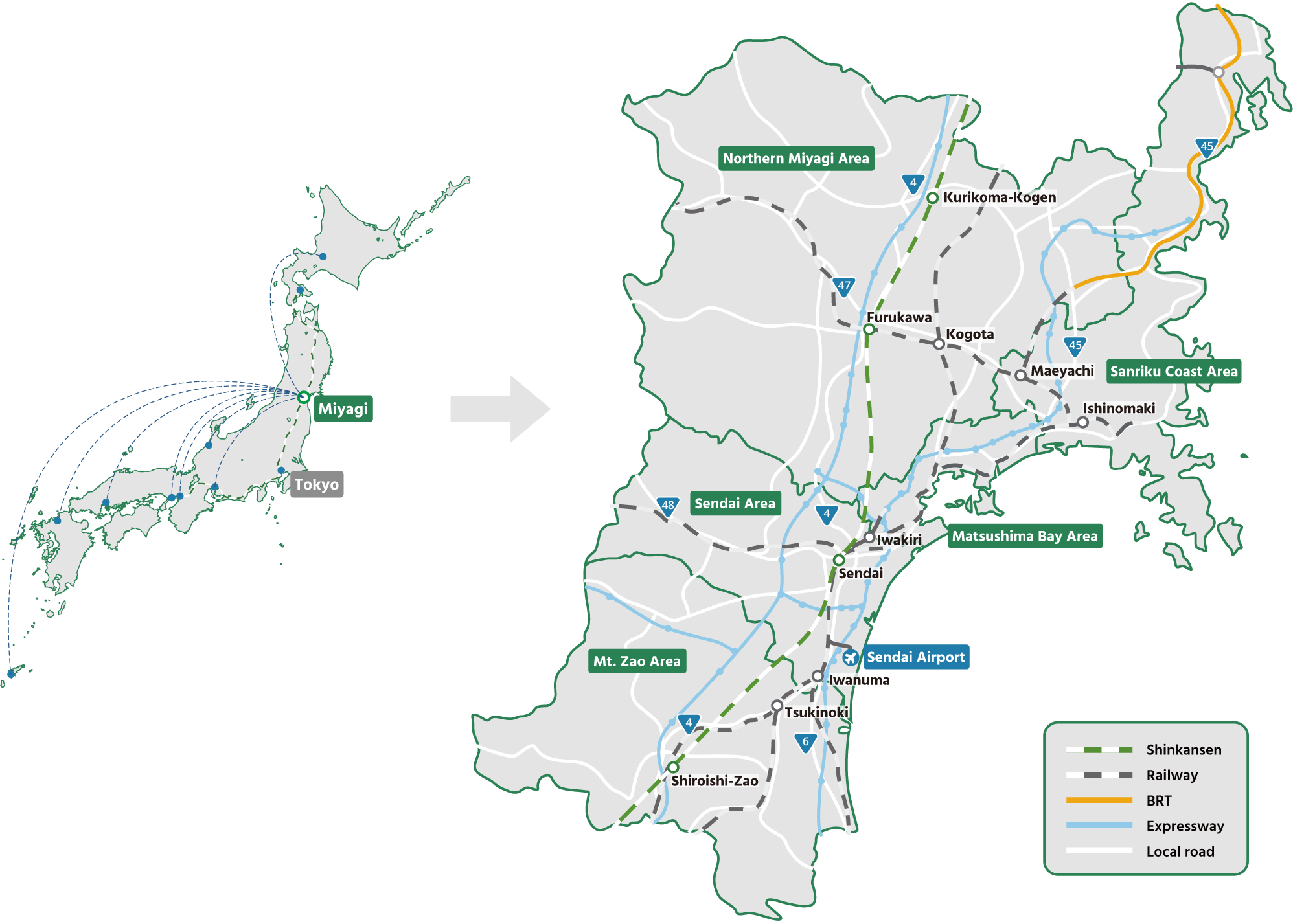 Getting to Miyagi
3 main routes provide access to Miyagi: by bus/car, by air, and by shinkansen (bullet train).
By Bus/Car
The Tohoku Expressway (a toll road) runs north-south through Miyagi Prefecture, and is the main road used to access Miyagi. There are numerous highway bus connections between Miyagi and other cities of Japan, including Tokyo.
By Air
The airport has international flights connecting Sendai with Seoul, Shanghai, and Taipei. Domestic flights fly direct to major cities of Japan. If you fly in to Sendai Airport, you can get to downtown Sendai directly via the Sendai Airport Access Line train. The airport also offers direct bus service to Matsushima, Hiraizumi, Akiu Onsen, and other sightseeing destinations.
Shinkansen
The Tohoku Shinkansen (bullet train) transports passengers from Tokyo to Sendai in about 1.5 hours. Shinkansen trains are a quick, easy way to get to Miyagi from other prefectures, including Hokkaido, Aomori, Iwate, Akita, and Fukushima.
Getting around Miyagi
Major means of getting around Miyagi are train, subway, bus, and car
By Car
You can get almost anywhere in Miyagi by car within about 2 hours. Major (toll) highways include the Tohoku Expressway, which runs north-south through Miyagi, and the Sanriku Expressway, which provides access to the Sanriku Coast areas. There is also a network of free, public highways throughout the prefecture.
By Train
The three major local lines are the Tohoku Line, which runs north-south through inland Miyagi; the Senseki Line, which runs north-south along the coast connecting Sendai to Matsushima and the Sanriku Coast area; and the Senzan Line, which connects Sendai and Yamagata in neighboring Yamagata Prefecture. Within Sendai City there is also a subway system with north-south (Nanboku) and east-west (Tozai) lines.
Travel Passes
Sendai Area Pass: for visitors with a foreign passport and short-term visa, unlimited travel between Sendai, Sendai Airport, Matsushima, Yamadera, Shiroishi, Akiu Onsen and more for a fixed price and special benefits at popular Sendai City tourist spots.
http://www.sendaiareapass.jp/en/
Sendai Marugoto Pass: a 2-day pass allowing unlimited rides on trains, subways and buses within Sendai City, to Sendai Airport, and major nearby sightseeing spots such as Akiu Onsen, Matsushima and Yamadera.
https://sendaitravelpass.jp/2days/en/
JR East Pass: a special discounted pass available only to customers visiting Japan (with a short-term visa no longer than 90 days) and holding a non-Japanese passport, which allows unlimited rides on all JR East train lines in the JR EAST PASS (Tohoku area) designated area. This includes travel from Narita and Haneda Airport, the shinkansen express train to Sendai, Zao-Shiroishi, and more.
https://www.jreast.co.jp/e/eastpass_t/index.html
Tohoku Highway Bus Ticket: for visitors with a foreign passport and short-term visa, unlimited travel on selected highway bus and local bus services across 6 prefectures including, Aomori, Akita, Iwate, Yamagata, Miyagi, and Fukushima in the Tohoku region.
https://japanbusonline.com/en/CourseDetail/index/10402880001
Tohoku Expressway Pass: Offers unlimited used of toll expressways in the Tohoku region for a flat fee. Available only in conjunction with car rental from a participating dealer (see link for list). Pass is programmed into the car's ETC card at time of rental.
English info: https://www.driveplaza.com/trip/drawari/tep2015/en.html