Photo by Wesley Keppel-Henry

Photo by Wesley Keppel-Henry

Ouchijuku, is a former post town on the Aizu Nishi Kaido, the road that connected Aizu and Nikko during the Edo period. Local lords would stay at one of the many inns in town as they traveled to Tokyo (then Edo). The post town was also used by traders. Many such post towns changed during Japan's modernization in the Meiji period, Ouchijuku, however, has been restored to look the way it might have during the Edo period. Ouchijuku offers visitors a chance to experience the unique feel of an Edo period post town.

Ouchijuku is accessible by car or by bus. Visitors traveling on weekends or public holidays will want to come early to avoid the crowds. Stroll down the main road, which is lined with the traditional thatched roof houses that give Ouchijuku its unique feel. The wide dirt road is pedestrian-only and has a narrow waterway on each side flowing with clear mountain water.
Although there are still a few lodgings, most of the houses have been transformed into shops. Visitors can enjoy strolling around and exploring shops that offer an assortment of products, from traditional Japanese handicrafts and souvenirs to sweets. One of the first buildings in town is a local sake shop that offers free tastings. For souvenirs, one of the most popular shops is Honke Kanoya, which has a selection of cute animal and vegetable stuffed dolls. Many visitors like to find the animal corresponding to their zodiac sign.
Sarah F. Jones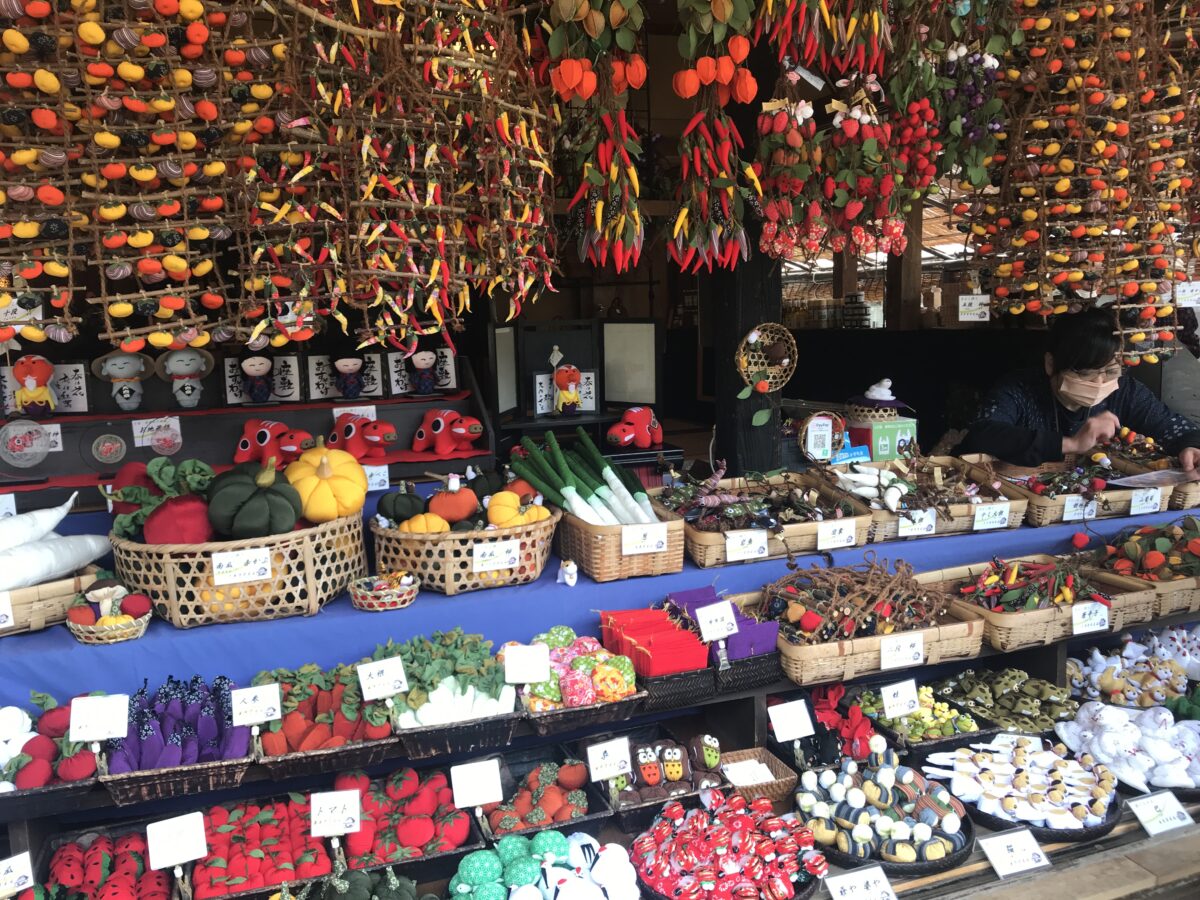 There are also many places to buy food and snacks. For those who like traditional foods, many shops offer jams, pickles, and mountain vegetables. For the brave, some vendors will offer to let visitors taste their inago no tsukudani, or stewed locusts. Those who like sweets should try warm and delicious Aizu tempura manju, a soba manju that has been breaded and fried tempura style. For those who prefer something salty, iwana is a river fish that is roasted over hot coals until soft and can be eaten bones and all. Similarly roasted over hot coals is the local shingoro-mochi, glutinous rice on a stick coated with a sticky sweet miso sauce. In front of each shop, visitors can find benches and tables to enjoy their snacks with some complementary tea. In the wintertime, visitors can sit inside an igloo.
Sarah F. Jones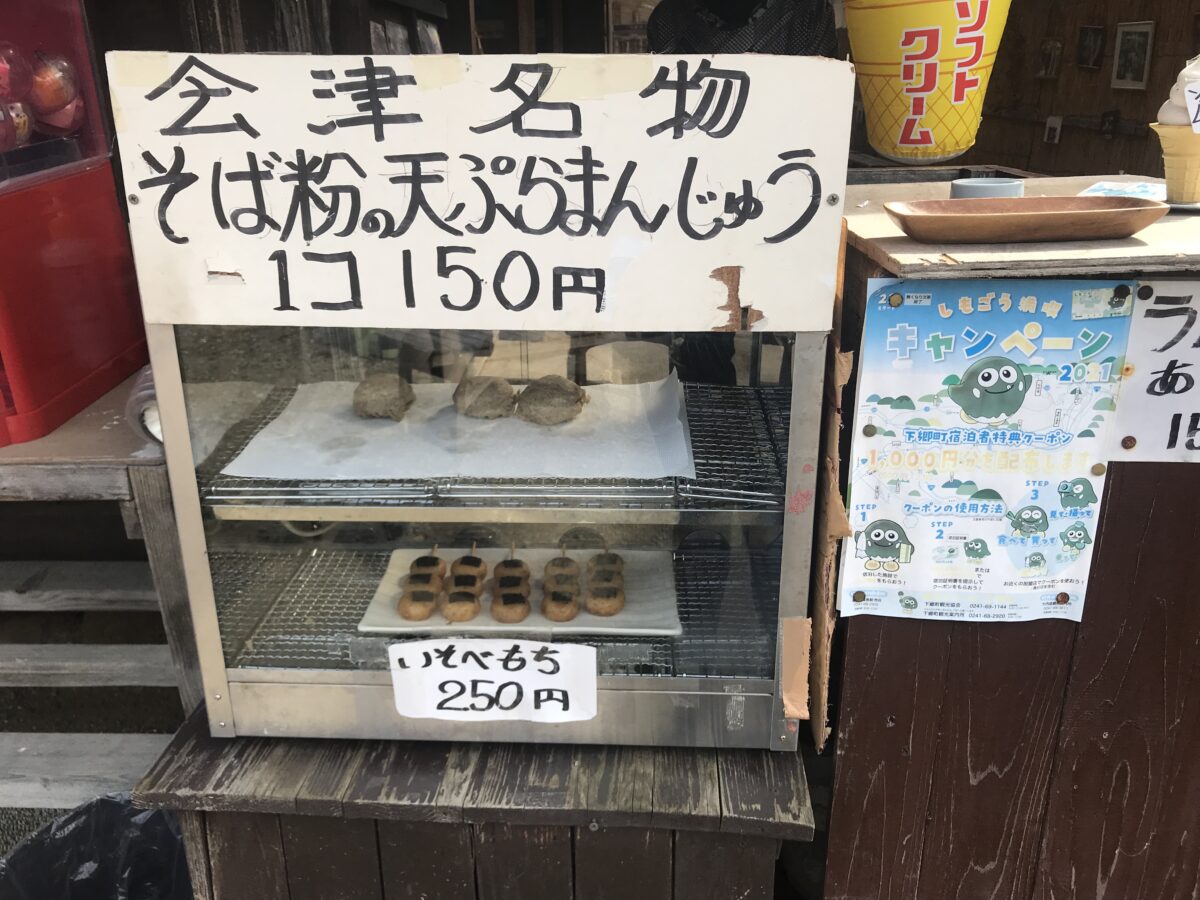 After enjoying the atmosphere of the main stretch, it is time to go inside the famous thatched roof houses. Continue toward the back of the Sabo Yamadaya café and you'll find a tea shop with a wood-burning stove and a mix of modern and traditional decor. There are also many soba shops inside the traditional houses. For those who don't want to eat negi soba, soba noodles eaten using a leek instead of chopsticks, Daikokuya offers a variety of soba and udon dishes.
Sarah F. Jones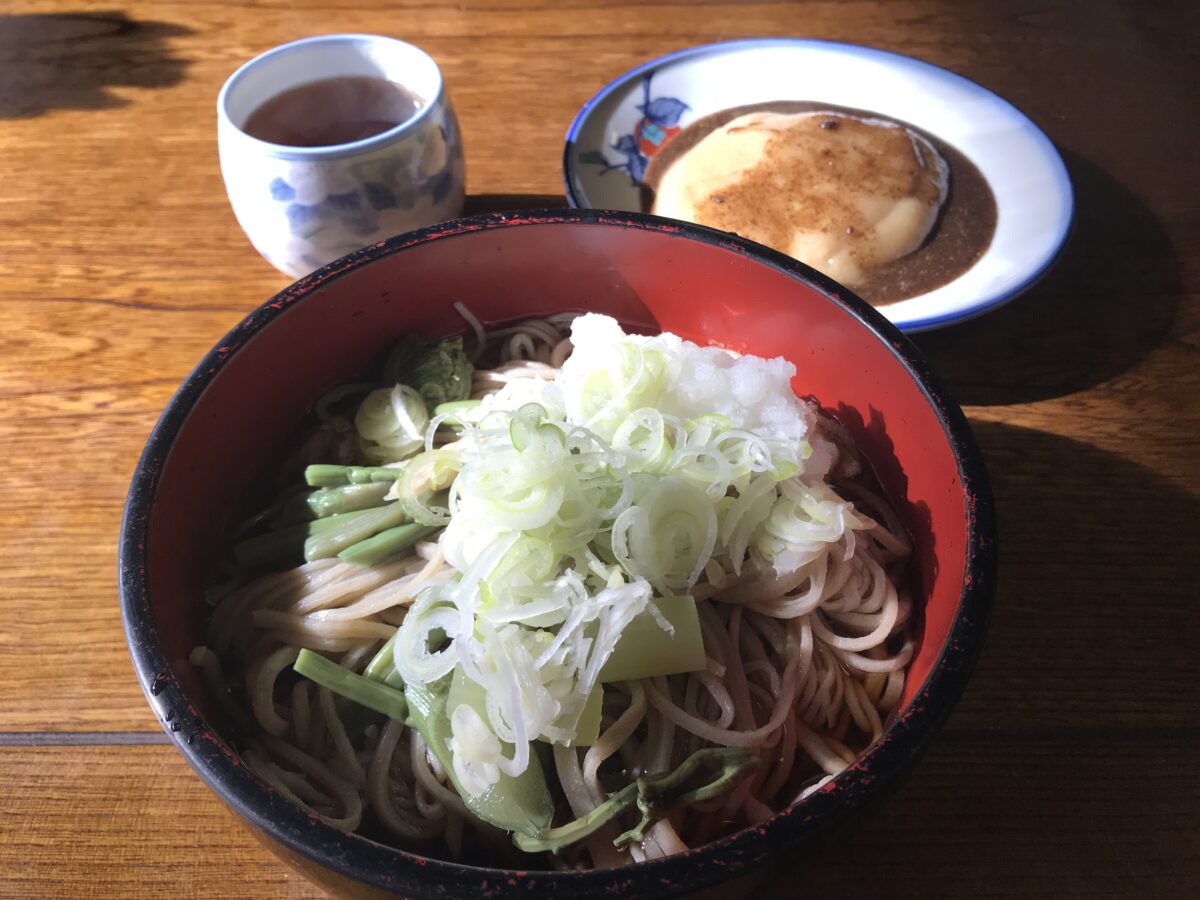 In the center of the main stretch is Ouchijuku Pavilion, a historic inn that has been rebuilt as a museum (behind it you'll also find one of the only public toilets in town). For a small price, you can enter the Pavilion to see a collection of old tools and implements used in the Edo era. With no English signage, it is a little difficult to fully appreciate the exhibits, but one can get a sense of the traditional interior and work that goes into making and maintaining thatch roofs. It is also nice to take a break and sit around a traditional irori fire pit.
Take a walk around the outside of town to the nearby shrines. The main shrine is clearly marked by a big wooden torii in the center of town. You'll find the shrine down a short road, in a grove of pines. The cool and quiet atmosphere here is a contrast to the bustle of the main stretch. Returning through the main stretch of the town, climb the hill at the end of the road to find the remaining shrines. This hill offers the best vantage for taking an overlooking photo of Ouchijuku. If you continue along the trail, you can take a short walk down the narrow roads and enjoy the scenery of the mountain.
Sarah F. Jones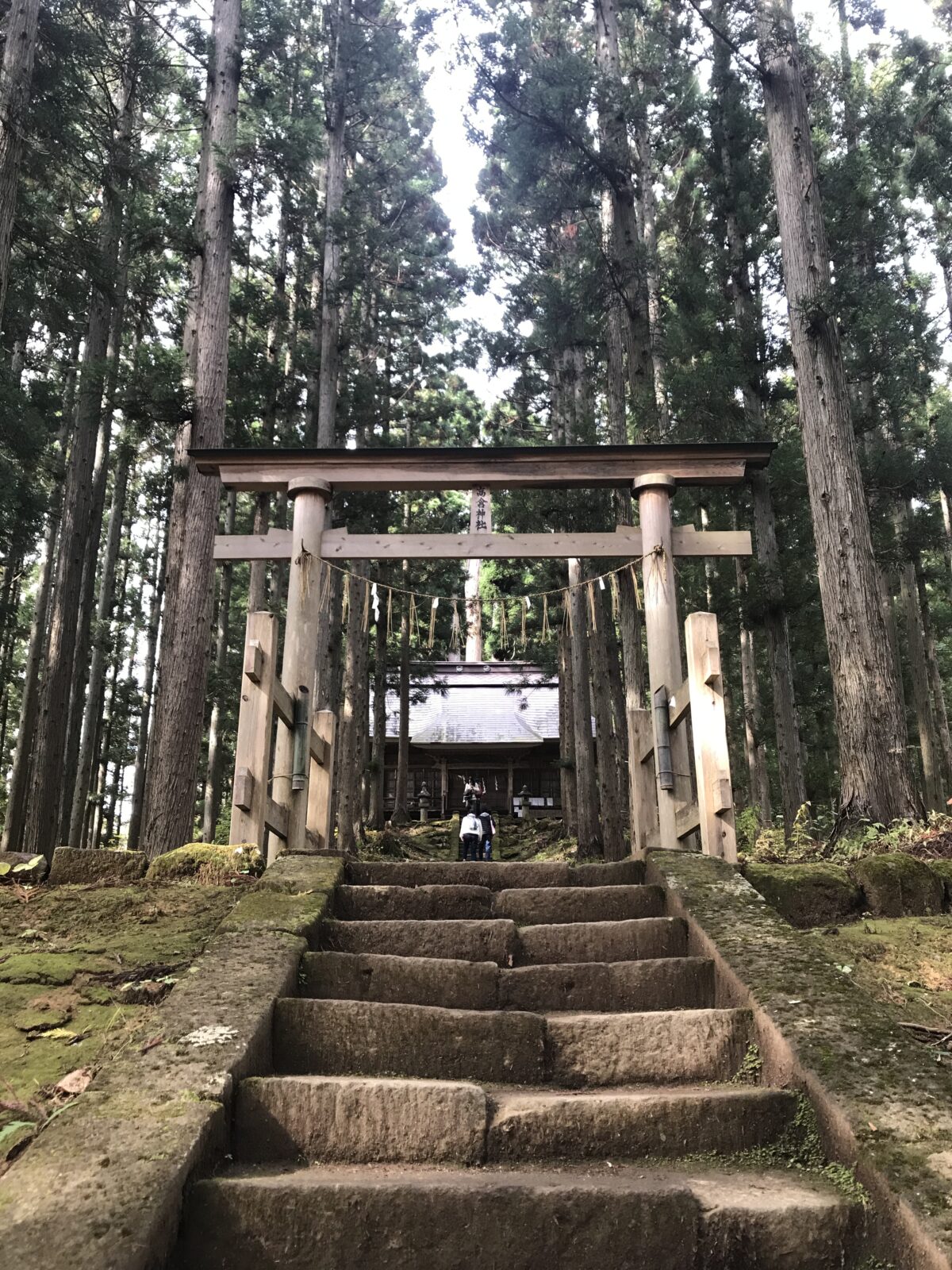 Last Update
March 18, 2022

Ouchijuku's atmosphere and history make it a unique destination. Many historical sites seem staged or empty, but Ouchijuku is an alive and lived-in, tourist-friendly town. It is worth a visit in any season, but for those who can make the trip in wintertime, the Ouchijuku Snow Festival offers a particularly charming experience. The town is transformed by snow and there are special snow lanterns and fireworks.

WEBSITEhttp://ouchi-juku.com/

Near Miyagi

Tags