Photo by Laura Egan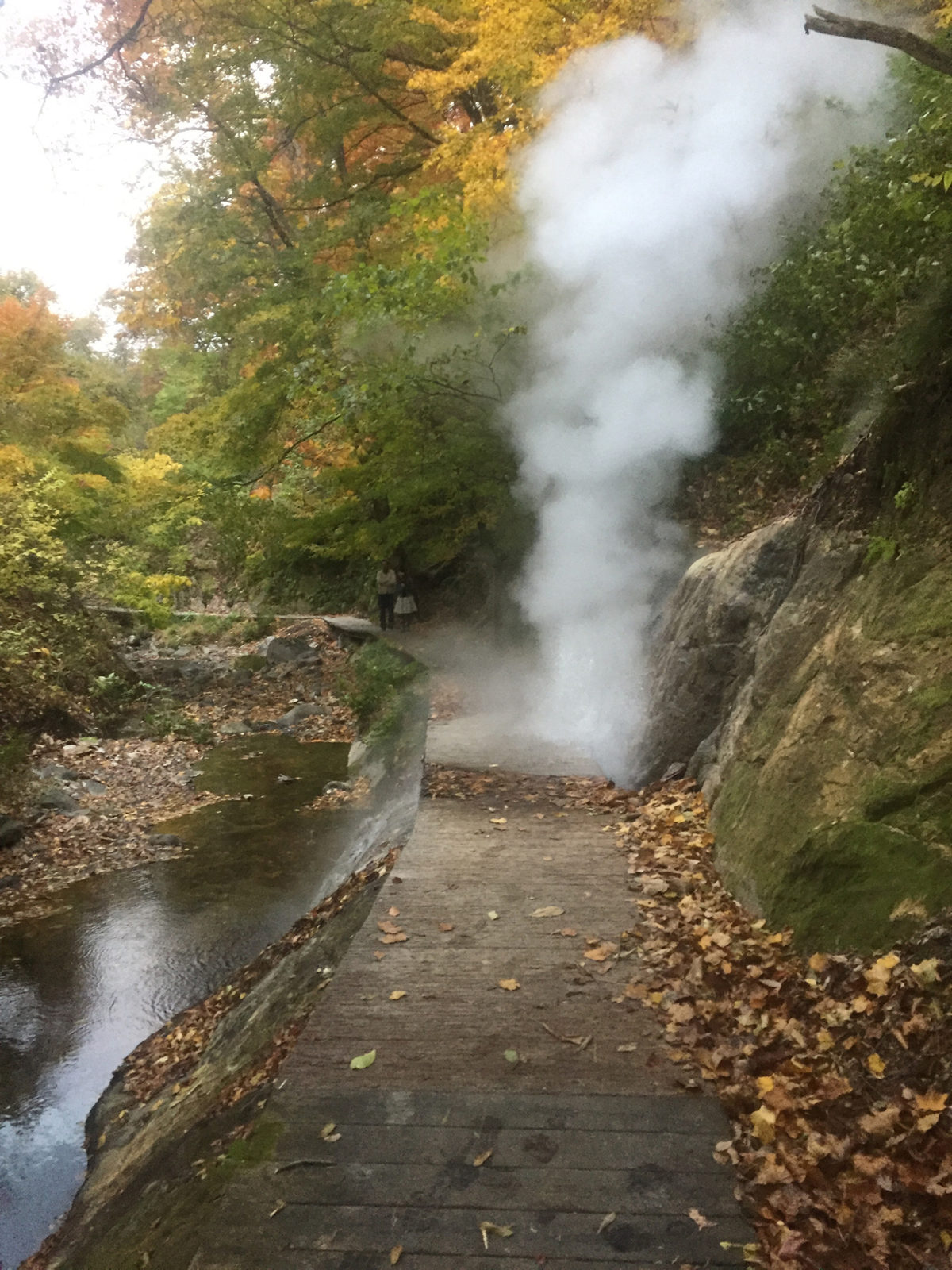 Photo by Roger Smith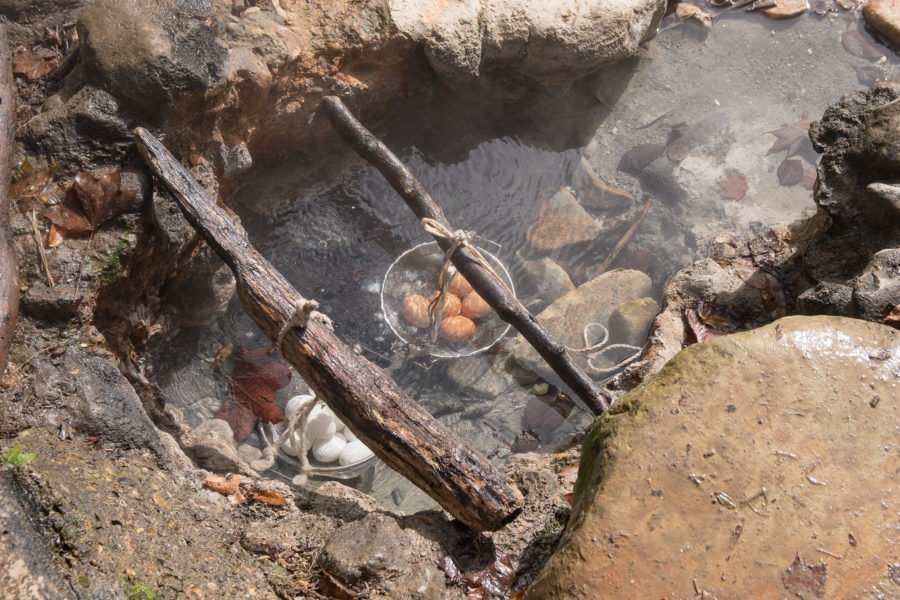 Photo by Roger Smith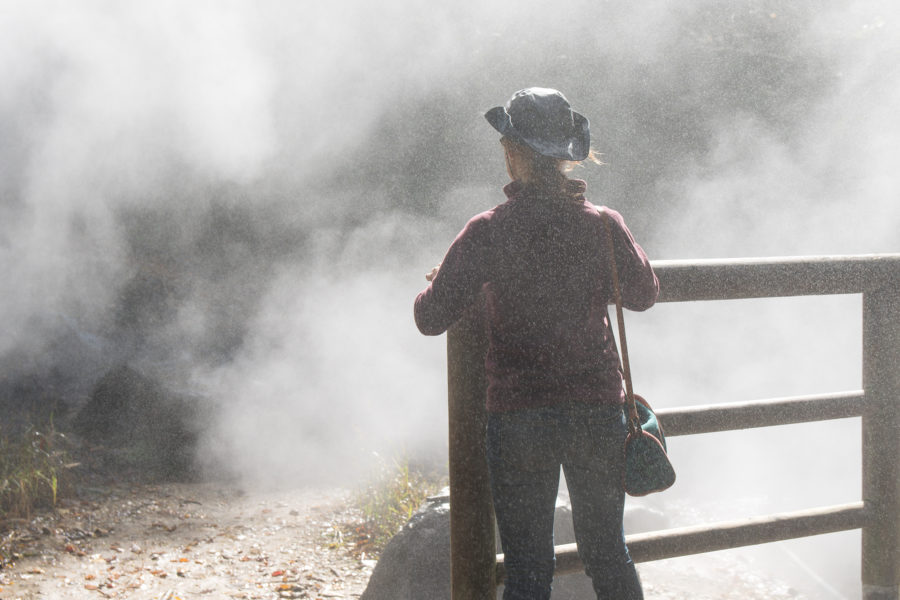 "Onikobe" translates to "Demon Neck," an apt moniker given the area's volcanic activity. A volcanic area located in the low mountains of northwestern Miyagi, Onikobe is home to volcanic sightseeing spots and hot springs. In winter, skiers and snowboarders come to enjoy fresh powder at the Onikobe Ski Resort. It is one of the most unique easily accessible outdoor destinations in Miyagi.

One of the best places to visit is the Onikobe jigokudani. "Jigoku" means "hell." Areas with lots of mild volcanic activity—steam vents, pools of boiling water, etc., are often referred to as jigokudani ("hell valleys") in Japanese. A friend and I recently visited the Onikobe Jigokudani Walking Trail for the first time, and the geysers along the trail genuinely thrilled us.
Roger Smith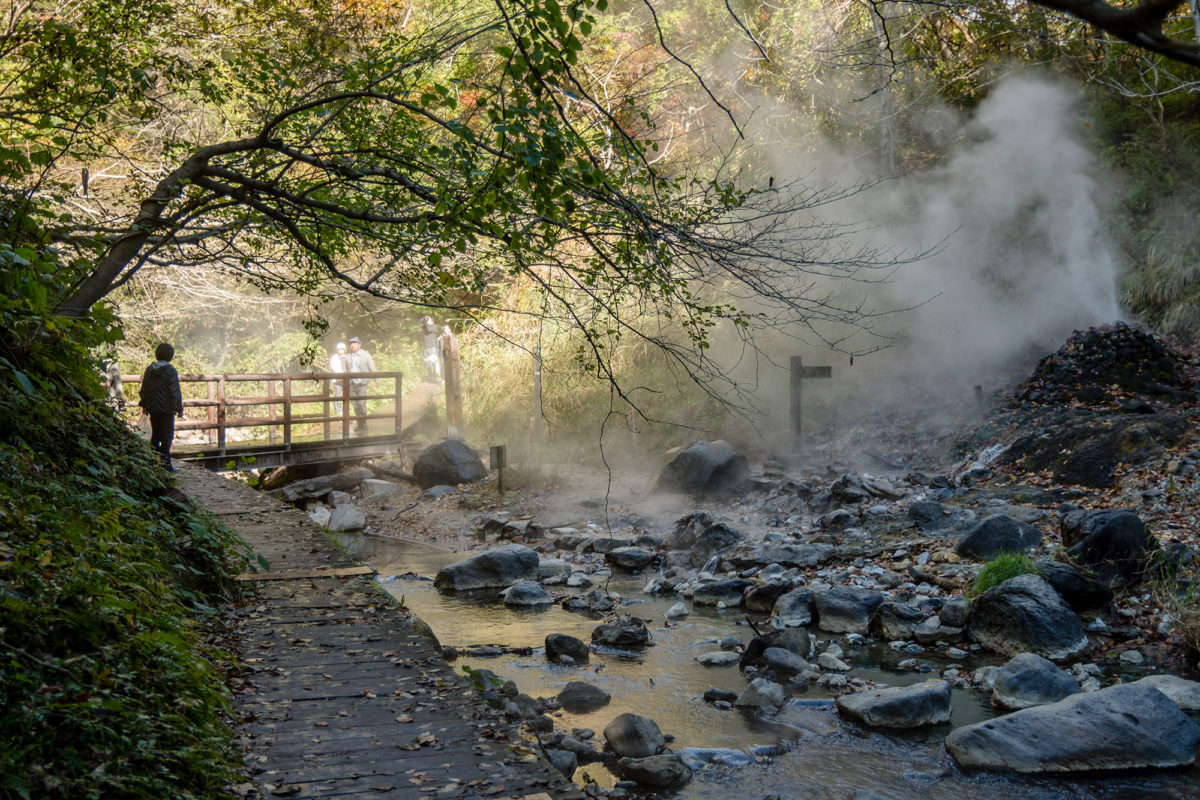 Several of the geysers spew almost constantly; others erupt on a predictable basis. A few however, erupt without warning from unexpected places. We'd be strolling through a seemingly tranquil section of trail, when on the hillside, fwoosh! a new geyser would erupt, catching us by surprise. As we stood still and reveled in the surroundings, we noticed we could hear gurgling sounds beneath our feet. By paying careful attention to the direction gurgles were coming from it became possible to approximate where the next geyser would appear.
Roger Smith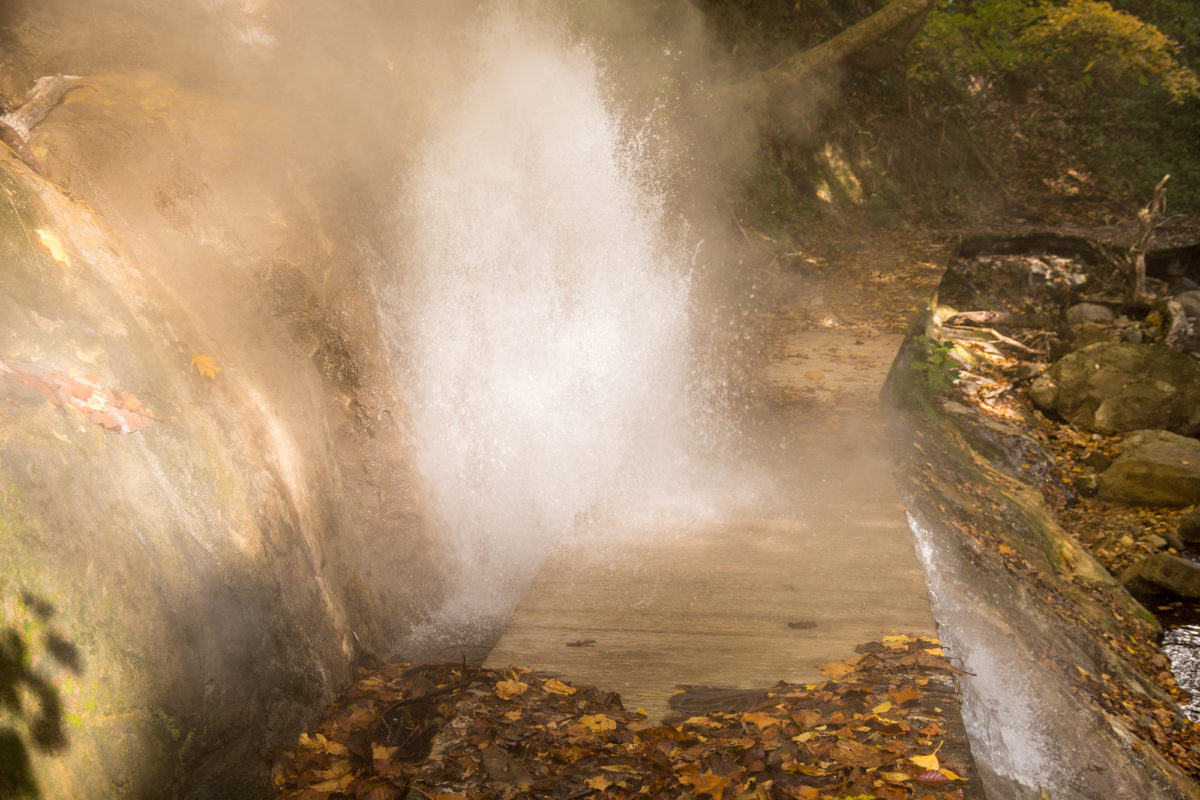 The trail is mostly flat and on wooden planks, so is accessible to a wide range of abilities. It's also not long—even at our leisurely pace, my friend and I were able to enjoy the gorge to our fill within an hour.
Roger Smith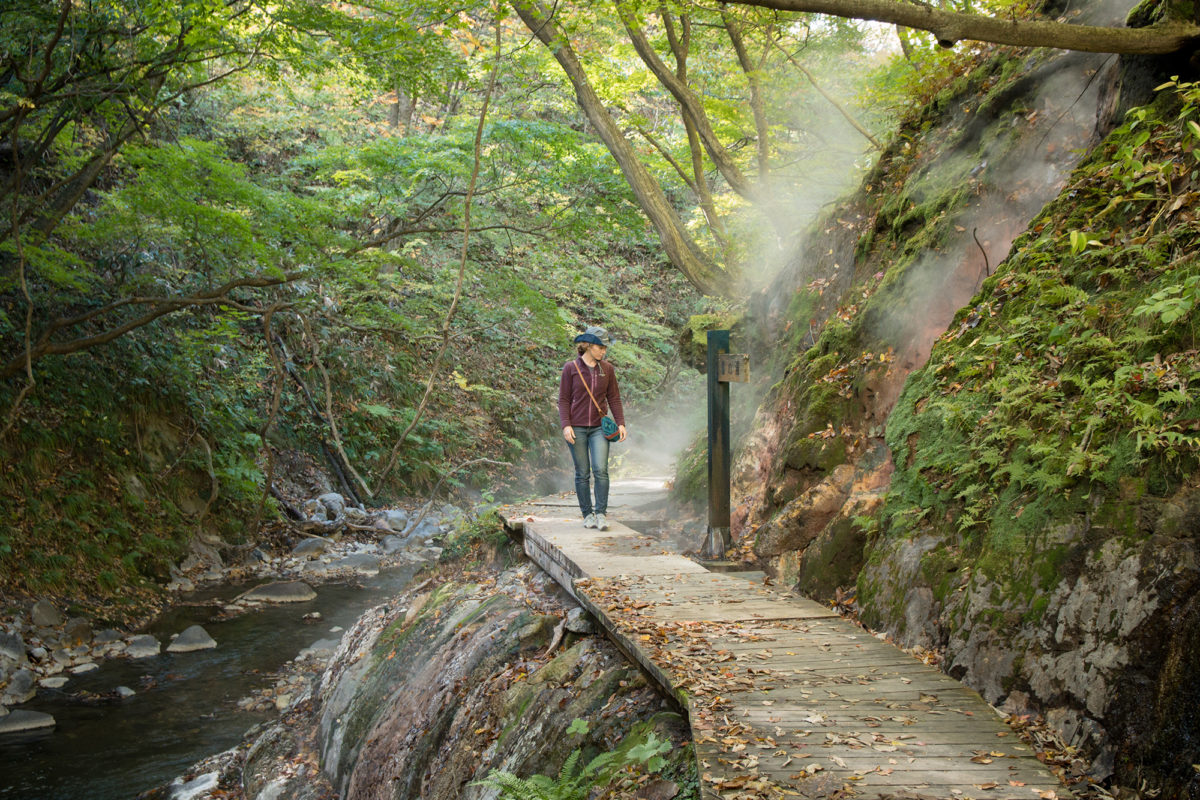 It's also possible to cook your own onsen tamago (soft-boiled eggs) in a small volcanic pool near the entrance of the jigokudani. Simply place some eggs in a basket (free shared baskets available) or dishcloth and lower them gently into the pool. Leave them there while you stroll. After about twenty minutes or so, pluck them from the water and enjoy. The stable heat of the volcanic pool is like a natural sous vide, resulting in creamy soft boiled eggs lightly seasoned by the mineral-rich water they cooked in. Pack your own raw eggs, or purchase some from the rest house at the neighboring Onikobe Kanketsusen park. A tourist attraction in its own right, the park is centered around a natural geyser that erupts like clockwork, sending a stream of hot water shooting fifteen meters into the sky.
Roger Smith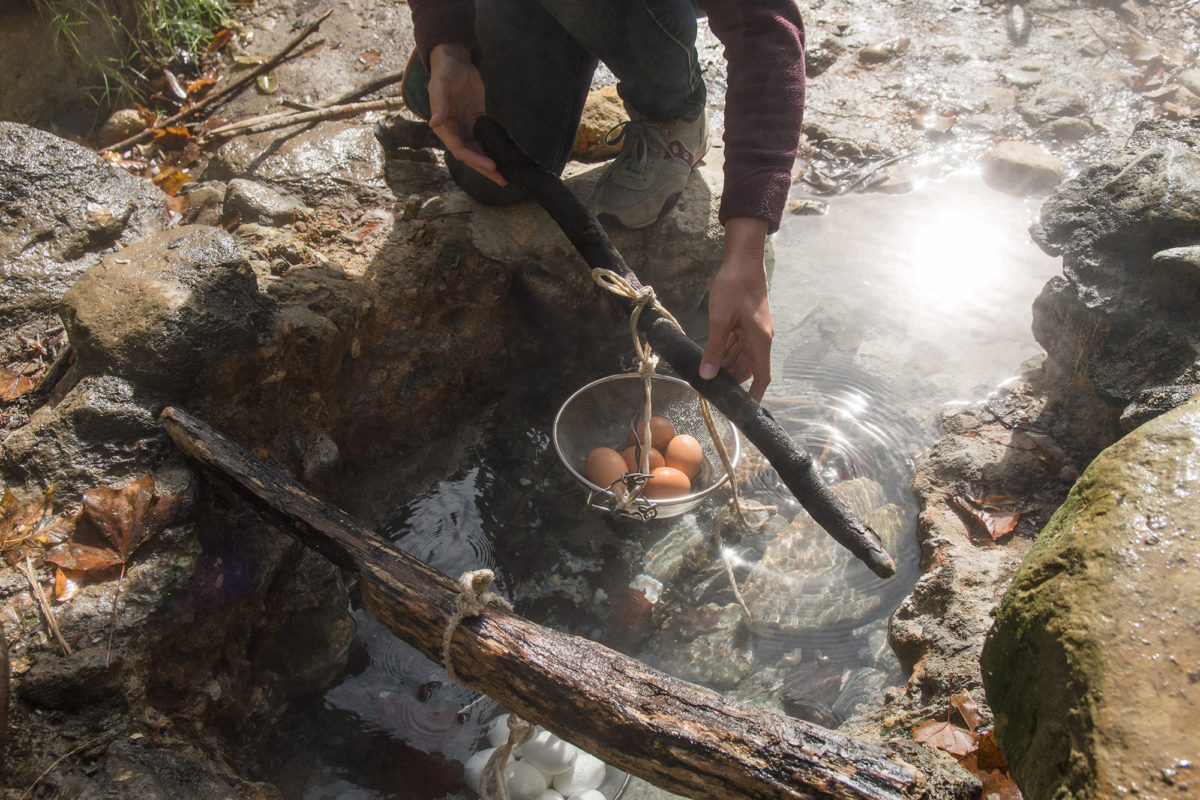 Onikobe is only about thirty minutes by car or bus from Naruko-Onsen Station, making it easily doable as a day trip. However, staying overnight at a nearby hot spring inn or the outstanding Fukiage Kogen Campground is really the best way to enjoy all the area has to offer. Onikobe's volcanic activity has blessed the area with a good number of hot springs within walking distance of the sightseeing attractions—even the campground has one on site! For visitors who simply can't make the time to stay overnight, several of the hot springs are open to day-trippers too.
Last Update
October 23, 2019

Northern Miyagi

Tags