Whether you are an expert with rich travel experience in Japan, or a foodie knowledgeable about Japanese cuisine, you are surely familiar with the national pride of Japan—sushi and kaisendon (seafood rice bowls). Warm and cold ocean currents meet in Miyagi's offshore waters, resulting in its abundant fisheries. Miyagi is also one of Japan's leading rice producers, and it also grows a type of rice called Sasanishiki, known as the best rice for sushi. This unique environment has given birth to numerous sushi restaurants and a wide variety of seafood rice bowls.

This article will introduce three different sushi restaurants and two types of seafood rice bowls with interesting concepts in Miyagi. You'll surely be eager to come to Miyagi to dig into these culinary delights!
Takaharu Saito / Yu-an Wang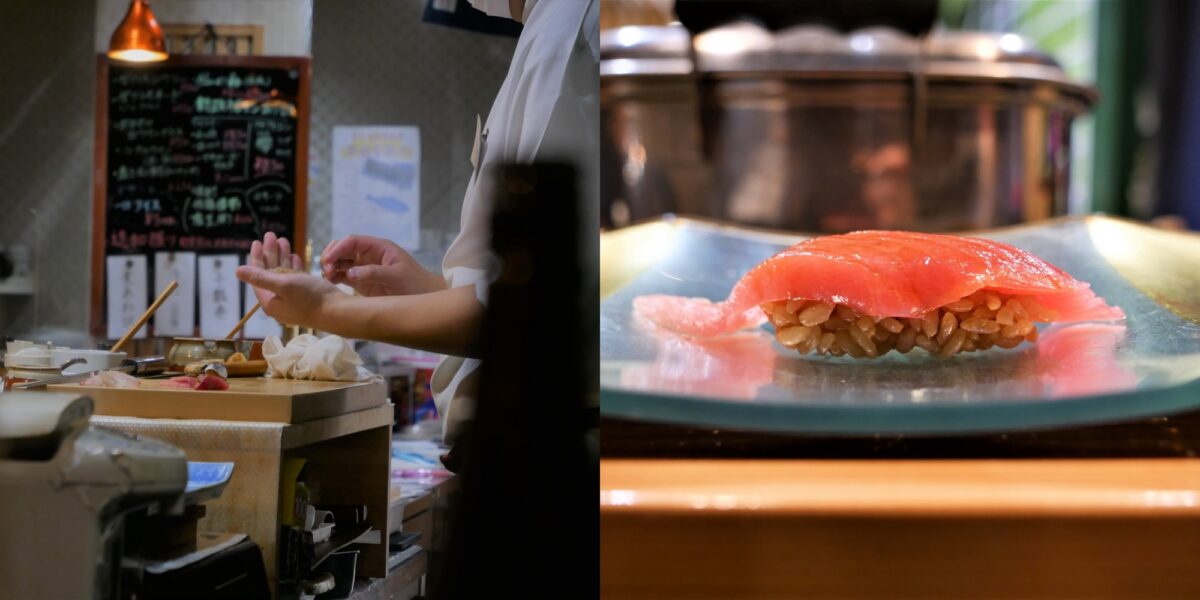 Hanaizumi (すし花一寿美)
Hanaizumi is a hidden omakase-style sushi restaurant where the sushi chef decides the content of the meal. 20 dishes are served for 4,200 yen. After you walk into Hanaizumi, all you need to do is decide what you want to drink (the minimum charge is two drinks, for a separate fee). Of course, the chef will ask you if you have any food allergies or ingredients you don't want to eat.
The owner and sushi chef, Mr. Atsuhiko Sugawara, actively uses local ingredients in his dishes, and his sushi presents the essence of "Edomae"—it is already seasoned when it is presented to the customer, without the need for additional soy sauce. The sushi is just like a cleverly arranged song; the flavors that burst in the mouth are both harmonious and exciting, allowing you to taste Mr. Sugawara's ingenuity. Don't leave your taste buds idle in the time you wait for your next piece of sushi. The varieties of local sake offered in the restaurant are all carefully selected and of the highest quality. With each sip, you will be impressed by how well sushi and sake pair together.
Although Hanaizumi is in a secluded area, the restaurant has lots of customers. The seating is quite limited, so it is recommended to make a reservation.
Details
Adress: BFE Bldg. 2F, 1-9-23 Honcho, Aoba Ward, Sendai, Miyagi 980-0014
Access by public transit: 10-minute walk from Sendai Station, or 6-minute walk from Hirose-dori Station (Sendai Subway Namboku Line)
Hours:
Monday-Thursday: 17:00-23:00 (Last entry 22:00)
Friday-Saturday: by reservation only, open for two time slots 18:00-20:00 & 20:10-close
Closed days: Sunday, the first Monday of every month, the New Year's holiday period (irregular closing on public holidays)
Credit cards: Yes
Languages: Japanese only
Handicap accessible: No
Phone: 050-1506-3128
Website: https://www.sushi-hanaizumi.com/
Yu-an Wang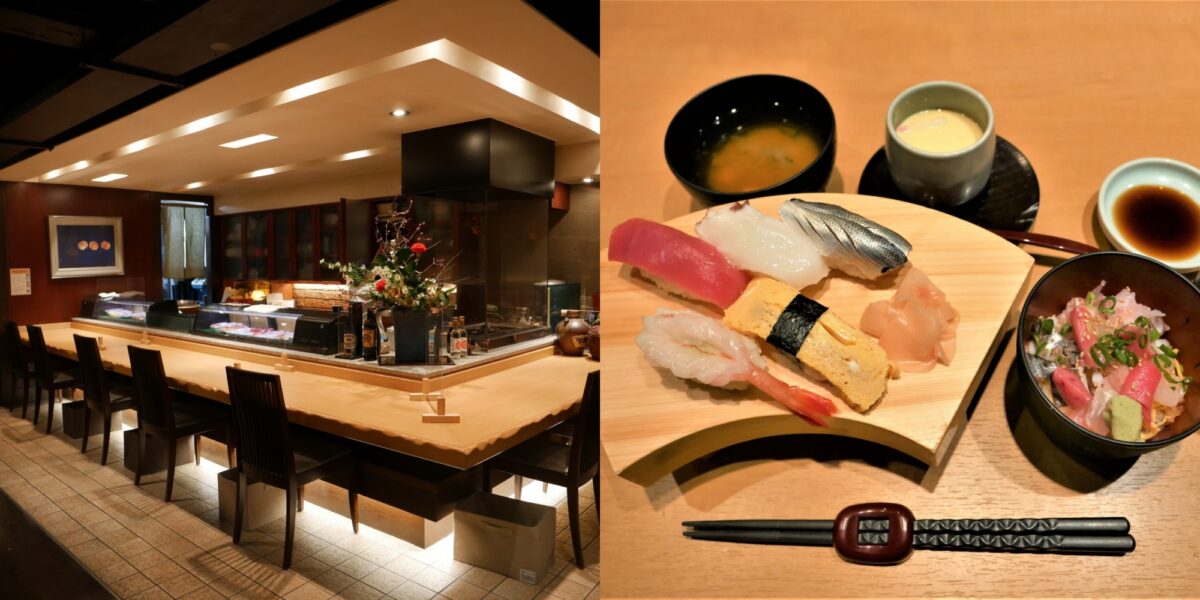 SUSHI-DINING TACHIBANA (お寿司と旬彩料理 たちばな)
TACHIBANA is an elegant sushi restaurant with a bright, clean bar counter as well as a few chic private rooms, perfect for solo or group dining. Since TACHIBANA is located near the Sunmall Ichibancho shopping street and the Fujisaki department store, you can often see ladies coming in after shopping.
TACHIBANA's menu has a wide range of prices. Some of their set meals are surprisingly cheap, especially the lunchtime selectable set, where you can choose two of the eight different dishes as your main meal, plus chawanmushi, miso soup, and dessert, all for only 1,320 yen!
TACHIBANA's interior looks modern but the restaurant actually has a history of nearly 100 years. Formerly known as Tachibana Sushi (橘寿司), the restaurant was originally opened in Tokyo and later moved to its current location after the end of World War II. Now in its third generation, Tachibana Sushi was transformed into SUSHI-DINING TACHIBANA by the innovative vision of its current owner, Mr. Naoya Aizawa. The restaurant has been loved by its patrons for decades.
TACHIBANA's sushi shows the persistence of a long-established restaurant, where the different ingredients are arranged into delicacies by the sushi chef's artful handling. A seemingly common tako (octopus) sushi amazed me so much—the chewy tissue had been completely tenderized. It melted in my mouth almost without chewing, making me sigh in admiration: "This is the taste of age-old tradition!"
In addition to sushi, TACHIBANA also offers motsunabe (beef or pork tripe hot pot), tempura, and Sendai's specialty "Sendai Tsukedon" seafood rice bowl.
Details
Adress: Tachibana Bldg. 5F, 3-3-25 Ichibancho, Aoba Ward, Sendai, Miyagi 980-0811
Access by public transit: 2-minute walk from Aoba-dori Ichibancho Station (Sendai Subway Tozai Line)
Hours:
Monday-Saturday: 11:30-14:00 & 17:30-21:00
Sunday & public holiday: 11:30-14:00 & 17:30-20:30
Closed days: Announced on their website
Credit cards: Yes
Languages: English menu available
Handicap accessible: Yes
Phone: 022-223-3706
Website: https://www.tachibana-sushi.com/
▼ See more articles of the Sendai area
Sushikan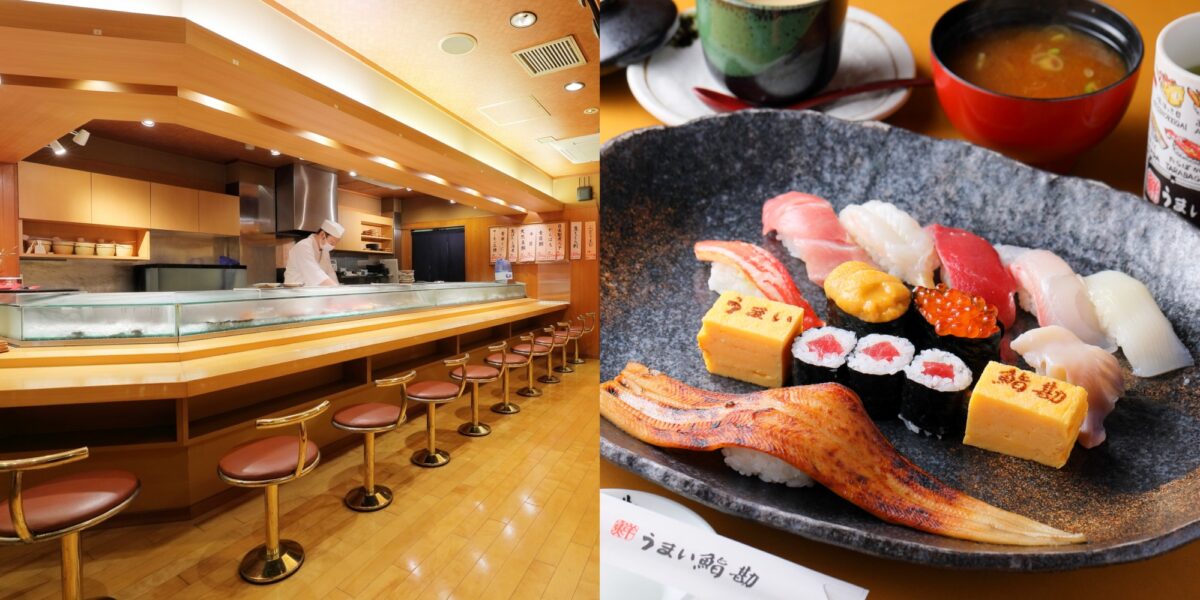 Sushikan (うまい鮨勘)
Sushikan is a sushi restaurant chain that originated in Miyagi, with as many as 30 branches in Japan as of 2021. In recent years, it has even expanded to Hong Kong in recent years, demonstrating its popularity. The fish used by Sushikan is hand-selected by the company's procurement team at fish markets in Sendai, Ishinomaki and Toyosu. As for the rice, they insist on using Miyagi's Sasanishiki. This rice is rich in amylose and has a refreshing flavor that does not take away the aroma of the fish. It also does not become soggy and sticky after adding sushi vinegar, making it popular with ryoteis and sushi restaurants.
While many people may not think of sushi chains as better than independent sushi restaurants, Sushikan's sushi is certainly worth a try. A chain restaurant with corporate scale has more bargaining power when it comes to sourcing ingredients, which means great seafood at cheaper prices. Chain restaurants also have a lower barrier to entry—you can have sushi without ordering a whole course.
Some people may ask, "With so many branches, how does the restaurant ensure that each chef is properly qualified?" Sushikan has a comprehensive internal training system where experienced sushi chefs carefully teach newcomers. The system ensures that each chef who serves customers is skillful and can provide customers with a great experience.
Details
Adress: There are many stores throughout Miyagi Prefecture, so please check Sushikan's website for the address of each.
Hours: Please go to Sushikan's website and click "詳細はこちら" below each store to confirm.
Closed days: As above
Credit cards: Yes
Languages: English menu available
Website: https://www.sushikan.co.jp/
▼ See more articles of the Sendai, the Sanriku Coast, and the Northern Miyagi area
Shiogama Seafood Wholesale Market / Miyagi Prefecture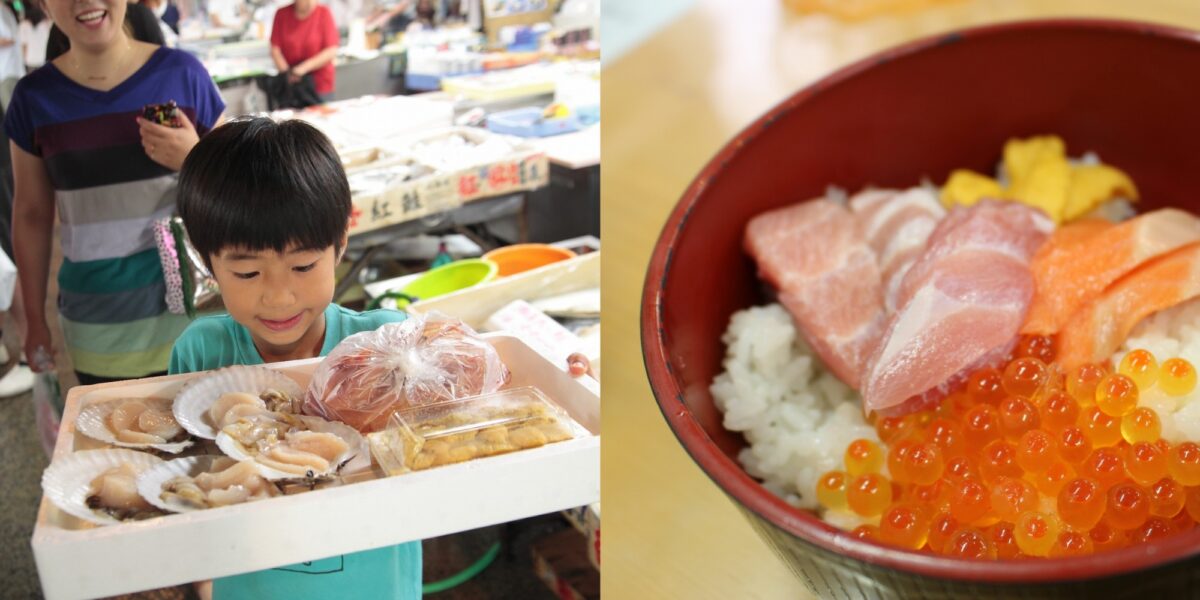 Shiogama Seafood Wholesale Market (塩釜水産物仲卸市場)
Shiogama City boasts the greatest number of sushi restaurants per capita in Japan, so it is not an exaggeration to say that Shiogama is the "Sushi Capital of Japan". However, what I would like to introduce here is not the sushi restaurants in Shiogama, but a special place where the fish is even fresher—Shiogama Seafood Wholesale Market.
When you come to the Shiogama Seafood Wholesale Market, you will no longer be a mere customer. Here you will become a chef in charge of making your own kaisendon (seafood rice bowls). All you need to do is to buy a bowl of rice at the My Kaisendon Corner in the market, and then you can start walking around the market to hunt for your favorite seafood ingredients. In addition to the usual fishery products, the stalls also sell small portions of seafood for the convenience of "chefs" to build their own kaisendon.
When it comes to Shiogama, the high-quality maguro tuna must be mentioned. Shiogama Port lands the largest catch of maguro tuna in Japan, and there are at least 20 maguro stalls in the Shiogama Wholesale Seafood Market. Ask nicely and the friendly fishmongers will happily cut you off some bite-sized pieces to add to your kaisendon and make it more delicious!
Details
Adress: 1-20-74 Shinhamacho, Shiogama, Miyagi 985-0001
Access by public transit: 15-minute walk from Higashi Shiogama Station (JR Senseki Line)
Hours:
The market: Weekdays 3:00-13:00; Saturday 3:00-14:00; Sunday & public holiday 6:00-14:00
My Kaisendon: Weekdays 6:30-12:00; Saturday 6:30-13:00; Sunday & public holiday: 6:30-13:00
Closed days: Wednesday
Credit cards: No
Languages: Japanese only
Handicap accessible: Yes
Website: http://www.nakaoroshi.or.jp/lang/en
▼ See more articles of the Matsushima Bay area
Roger Smith / Minamisanriku Sun Sun Shopping Village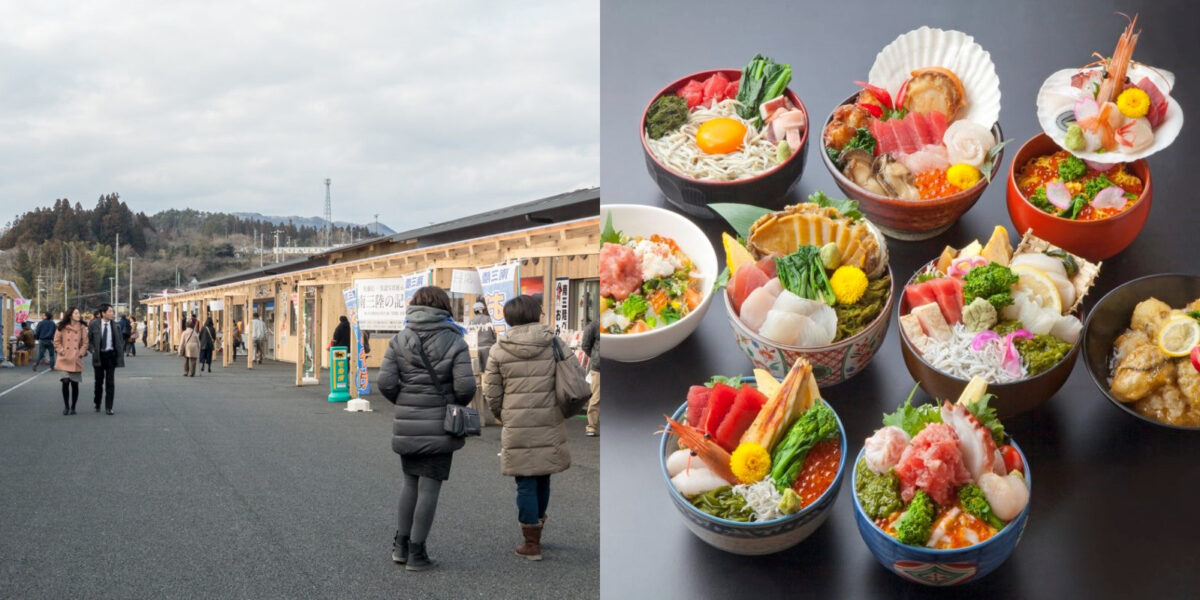 Minamisanriku Sun Sun Shopping Village (南三陸さんさん商店街)
The Shizugawa area in Minamisanriku Town was severely damaged by the 2011 Tohoku earthquake and tsunami, and residents were left without a commercial center from which to trade. Against this backdrop, the residents temporarily built the Sun Sun Shopping Village with simple materials in 2012. As this facility became increasingly popular, it was renovated in 2017 and finally officially completed.
As of the end of 2021, there are 28 stores in the Sun Sun shopping village, including many ryoteis and sushi restaurants. The most famous seafood dish in Minamisanriku in recent years is the kirakiradon which is an extravagant dish with a variety of seasonal seafood on top of rice, and the topping is so much that it almost fills the bowl.
There are nine restaurants in Minamisanriku that serve kirakiradon, and six of them in the Sun Sun shopping village. Kirakiradon has four different seasonal varieties, and each restaurant makes a different version. One of them even offers a Chinese style kirakiradon, showing that kirakiradon is not simply a dish, but a medium for the restaurants to turn their ideas into realities. If you think the Chinese-style one is not creative enough, there is a patisserie in the Sun Sun Shopping Village that also sells "kirakiradon," waiting for you to try it!
Details
Adress: 201-5 Itsukamachi, Shizugawa, Minamisanriku, Motoyoshi District, Miyagi 986-0752
Access by public transit: 2-minute walk from Shizugawa Station (BRT Kesennuma Line)
Hours: Varies by store. Check it on the Sun Sun Shopping Village's website.
Closed days: As above
Credit cards: Some stores accept card payments
Languages: Japanese only
Website: https://www.sansan-minamisanriku.com/
▼ See  more articles of the Sranriku Coast area
Last Update
January 17, 2022

Matsushima Bay

Sanriku Coast

Sendai

Tags